A Wonder-Full Weekend
Temple comes alive March 24-25 with a transcendent arts and technology experience
By Nancy Cohen Israel
Light Years celebrates Temple Emanu-El's illustrious past through the artistic media of the present. The TE150 Creations committee worked with AURORA, a Dallas-based organization synthesizing new media into interactive public art projects, to commission a spectacular two night event featuring the work of eight leading contemporary artists. On March 24 and 25, the exterior of Temple will become a canvas for three video projections while other parts of the campus will feature activations that involve audiences in new and exciting ways.
The Outside Stories: Worship spaces offer new expressions of spirituality and history
"Rest" at Lefkowitz Chapel
A collaborative work by Taylor Cleveland, Danielle Georgiou and Justin Locklear will welcome Shabbat in a unique way. Georgiou is choreographing a work in which dancers use movement to embody the spirit of Shabbat. On Friday night, she explains, "Performers will be exploring gestures of rest. On Saturday night, they will slowly evolve into more active movement as dancers explore coming out of rest and what that looks like." Longtime collaborator Justin Locklear created a complementary projection to illuminate the exterior of Lefkowitz Chapel. Locklear's attraction to the chapel's spare aesthetic as well as the ways in which light moves through the building are among the elements that he brings into this work. Cleveland, who is animating "Rest," says: "I am using light as an emanation, more like a glow." In this way, light is being used as a metaphor for Temple's continuing role in civic engagement. "I enjoy how Temple Emanu-El speaks to its relationship to the community," Locklear says, adding that they are also using light as an homage to Rabbi David Lefkowitz's years of dedicated service to the congregation and the city. This installation will be shown on March 24 and March 25.
"Circular Time: seed & harvest" at Stern Chapel
When Mirta Kupferminc's work is projected onto the façade of Stern Chapel, it will make a statement about inclusion and tradition. "My feeling was to turn the space out to the street so everyone who walks by will understand this as an invitation to share space and spirituality," she explains. The child of Auschwitz survivors who resettled in Argentina, she considers herself more culturally Jewish than religiously observant. Regardless, her video montage highlights ancient images as it celebrates past, present and future. Trees play an important role in her work. The exodus from Argentina following its economic crises inspired her to incorporate them as a metaphor for being uprooted. "It is a very iconic image," she says, although she doesn't dwell on the past. "I am always looking at the future because it will always continue." This installation will be shown on March 24 and March 25.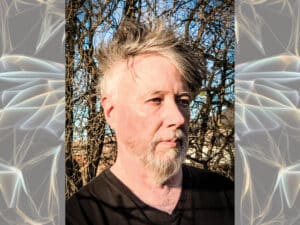 "In Their Arms We Hold the Sky" at Olan Sanctuary
Olan Sanctuary was a model of modernity when it was dedicated in 1957. For his projection against this historic space, David Stout created a panoramic video mural, drawing its inspiration from the distant past while employing the latest technology. Inspired by ancient tapestry weaving and manuscript illumination, Stout creates layered images which he then translates into a digital version. For this work, he explains, "I am blending AI-generated imagery with other generative forms and then taking data from those forms to create sound." Using the tree of life as a metaphor for interconnectivity, he states, "I see the idea of a temple not as a physical building but anywhere that people want to congregate and come together as a community." Though Stout originally trained as a visual artist, he now teaches musical composition studies at the University of North Texas. His work melds these two disciplines into something entirely new. This installation will be shown on March 24 and March 25.
Light, Magic, Movement: The Activations
Three site-specific works of art will provide opportunities to experience the outdoor space around Temple Emanu-El in completely new ways.
"Valley of the Giants"
Mari Hidalgo King presents several large-scale movement sculptures in this work for this space, she says, "I've been playing with the immigrant story and this moment of passage." The title is a direct reference to the California redwoods and is meant to inspire the same sense of wonderment. Unlike the trees, however, these lightweight works sway about through the propulsion of fans. "The joy of this piece is standing there and having them bump you. There is a bewilderment of joy," she says. The inevitable joyful laughter of those walking through it generates its own audio component, transforming it into a completely interactive experience. Viewable March 25 only.
"Kaleidoscope of Light, Habitat of Reflections"
The butterfly is a recurring motif in the work of Bernardo Vallarino. For his activation at Temple, he creates a beguiling space modeled on butterfly habitats. "Hopefully it is a place where people can reflect," he says, adding, "It will be a twist on a butterfly habitat with a human connection." As with each of the works presented over the weekend, his goal is to create an environment that not only reflects Temple's role
within the Jewish community, but also its inclusive nature and devotion to being part of the larger Dallas community. Viewable March 24 and March 25.
"You Are Magic"
"It only takes that little bit of reaching out to make a connection," says Alicia Eggert. From its fabrication to its activation, her work honors connection and collaboration in every sense. She worked with Caroline Hayes Charuk, who sewed the 12-foot tall inflatable, while also collaborating with Abigail Stiers, an artist and software engineer, who solders the handprint sensors used to activate the work. "The act of
engaging with it is also collaborative," Eggert notes, as viewers play a key role in bringing the work to life. Originally commissioned as a public art project in Arlington, Virginia, this installation marks its Dallas debut. Viewable March 25 only.
About AURORA
Founded in 2010 by local artists Joshua King and Shane Pennington, with Dallas arts advocate Veletta Forsythe Lill, AURORA is a nexus for artists working with technology-based media. Devotion to community accessibility is one of AURORA's cornerstones. Light Years is their first project to be commissioned for a religious institution. With over a decade of experience presenting these activations, AURORA was deliberate about the artists whose work they thought would be appropriate. They put out a private call for entry to a select group. "We took a curated strategic approach," says King. They approached artists with rising reputations, proven track records and impressive resumes featuring national and international exhibitions. Under the leadership of AURORA Executive Producer, Erica Felicella, this initial list was then finalized to the six works presented for this celebratory weekend. These artists then met with the TE150 committee to learn more about the congregation. AURORA's hope is to demonstrate how accessible technology-based art is and how these new media provide a sense of inspiration and wonder. "If we can use technology as a conduit for the arts and if we can use it for community engagement, then I see technology as a tool for powerful good," King says.
Nancy Cohen Israel is a Temple member, art historian, educator and writer. She led the TE150 Creations lunch and tour of the Meadows Museum Dalí/Vermeer exhibition.